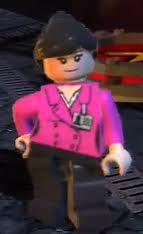 Lois Lane is a character which is related to Superman. In the comics, she is the girlfriend and wife of Superman.
Description
Edit
She has a black ponytail on her hair. She wears a pink reporter's coat with a name tag and black pants.
Backround
Edit
Lois Lane is a reporter of the Daily Planet. She works with Clark Kent( A.K.A Superman)
She has usally been curious if Superman and Clark Kent were the same person.
Lois Lane only appears as a minifig in LEGO Batman 2