Batwing Battle Over Gotham City



Item №:

6863

Minifigures:

Pieces:

278

Price:

USD $34.99/EUR$35.99

Ages:

7-14

Released:

Theme:
6863 Batwing Battle Over Gotham City is a set for the DC Universe theme. It will include Batman, The Joker, a Joker Henchman, the Batwing, and The Joker's Helicopter.
Description
Edit
Batwing Battle Over Gotham City is made up of two parts; Batman's Batwing and The Joker's helicopter.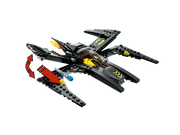 The Batwing is styled to resemble the bat-logo on Batman's chest, but the plane is much more angular than the rounded logo. As all of Batman's vehicles, the Batwing is black, but also has a little bit of yellow on the decorative logos on the wings and the arrows on the "bat's head".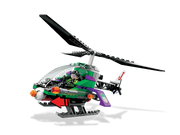 The Joker's helicopter is coloured mostly green and purple, but also uses black in areas like the rotors and skis. The Henchman pilots the helicopter, which is only large enough to hold one person, while The Joker dangles on a white rope ladder attached to the skis. Between the skis is a red and white "laughing gas" bomb which can be dropped. There are also two red guns attached onto the helicopter's sides.
Background
Edit
This set could be based on a scene from the 1989 Batman movie where The Joker uses a helicopter as a getaway vehicle after attempting to spread laughing gas across Gotham City, but is stopped by Batman in the Batwing. This is supported by Batman's suit, which resembles the one in the movie.
According to the set description, The Joker is planning to drop a laughing gas bomb on Gotham City, which Batman tries to prevent.
Set description translated from French
Edit
"Hooked on a scale in his helicopter, the Joker is preparing to launch a bomb" on laughing gas toxic "to the citizens of Gotham City. Luckily help arrives! Batman rushes aboard his Batwing high speed. Will he use the missiles to put the Joker KO? Includes three figures: Batman, the Joker and henchman. "(278 pieces)
According to the box art, this set will include a comic book.
LEGO.com Description
Edit

This is a description taken from LEGO.com. Do not modify it. (visit this item's product page)
---
Stop The Joker™ from dropping 'toxic laughing gas' on Gotham City!
Hanging on a ladder below his helicopter, The Joker™ prepares to bomb the citizens of Gotham City with toxic laughing gas. SwoopBatman™ down in his ultra-fast batwing to save the day! Can the Caped Crusader use the flick missiles to send The Joker spinning off into the sunset? Or is all of Gotham City in peril? You decide! Includes 3 minifigures: Batman™, The Joker and a henchman.
Includes 3 minifigures: Batman™, The Joker™ and henchman
Vehicles include The Joker's helicopter and the Batwing
The Joker's helicopter features henchman pilot, 4 flick missiles, rope ladder and 'toxic laughing gas' bomb release function
Batwing features 2 flick missiles and bomb release function
Release the bombs!
Includes comic book!
The Joker's helicopter measures 7" (20cm) long
Batwing measures over 8" (22cm) wide
Minifigures included
Edit
TV Advert
Edit
External Links
Edit